Black Lives Matter
Black Lives Matter. That should go without saying, and it's awful that it doesn't; we recognise the cost so many BAME people have paid and are paying as a result.
The Epicurean Cure is a celebration of thinking critically and robustly about the media we love. Further down you'll find a selection of works by BAME authors: those that sit with worn spines on our bookcases; that we've read to the children in our lives; that we've pressed into the hands of friends; that we've sat up into the wee hours consuming. We've also included a series of links to other media created by BAME people or that give context to the current protests (those aren't mutually exclusive!). Buy them from your local bookseller, borrow them from your local library, watch them, play them.
However, that's not all you can do. We can't speak to the lived experience of BAME people so must defer to those who can, and the overwhelming message we're hearing is to donate, so that's what we've done. Here are some resources with suggestions of where you can direct your time and funds: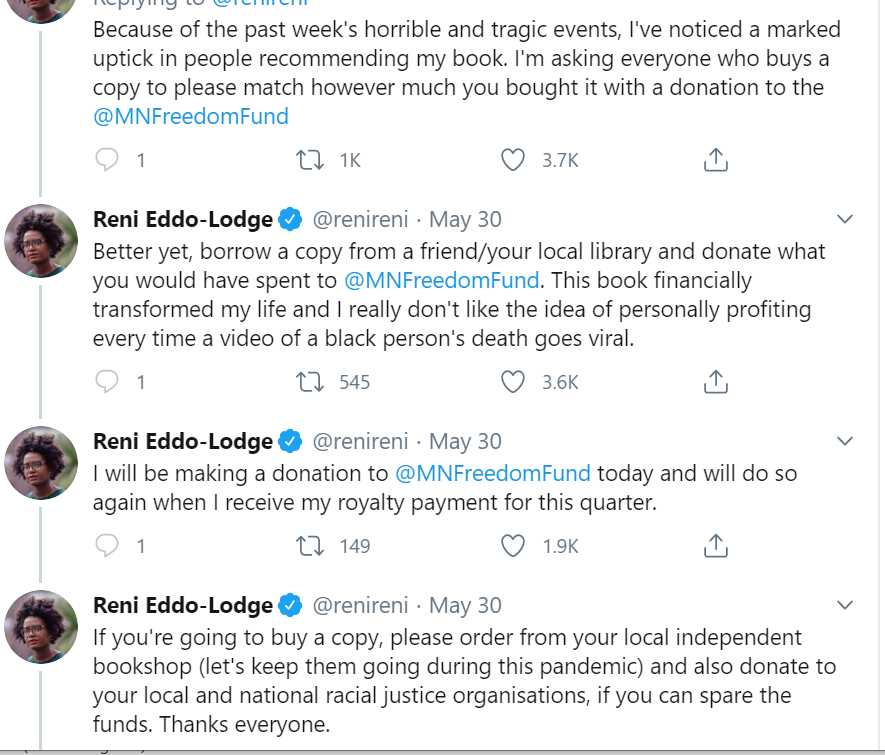 ---
Our favourites
Poems by Maya Angelou
The philosopher's well-worn copy collects four volumes of Maya Angelou's poetry: Just Give Me a Cool Drink of Water 'Fore I Diiie; Oh Pray My Wings Are Gonna Fit Me Well; And Still I Rise; Shaker, Why Don't You Sing?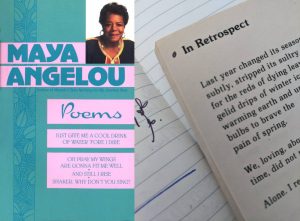 Her 17-year-old self marked favourites with dots in the corner of the pages, but every time she opens the book something new resonates. Zen Pencils' Gavin Aung Than illustrated "Phenomenal Woman", and it's well worth a look.
Young, Gifted and Black by Jamia Wilson, illustrated by Andrea Pippins
This gorgeous picture book depicts fifty-two black legends – one for each week of the year. It's brightly coloured, uplifting and covers musicians, politicians, athletes and other important figures from all over the world.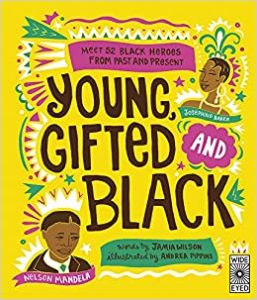 You can find more picture books celebrating BAME people in Quarto's "Anti-racist books for kids" list.
Binti by Nnedi Okorafor
The first in a trilogy of stories about Binti, the linguist defies anyone not to read it in a single sitting (also it's a novella, so you really don't have an excuse). Tense, textured, thoughtful – Okorafor's gift for characterisation keeps this story in your thoughts long after the last page.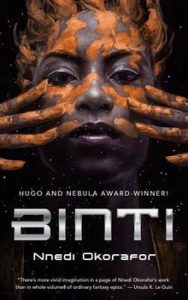 Rosewater by Tade Thompson
The first of a sci-fi trilogy set in Nigeria, Rosewater is widely acclaimed and it's not difficult to see why. Both the philosopher and the linguist amongst us read and enjoyed it, and we tend to disagree about books, so that speaks for itself.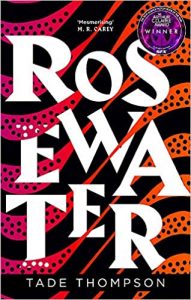 The Broken Earth Trilogy by N. K. Jemisin
These are excellent, simpliciter. The trilogy is described as 'science fantasy' and has fascinating world-building and multi-layered female characters. Jemisin was the first African-American author to win the Hugo Award for Best Novel, which she did for the first in the trilogy: The Fifth Season. She went on to win the Hugo for both sequels, The Obelisk Gate and The Stone Sky.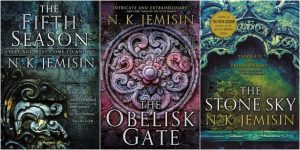 The only reason our own copies don't feature in the image at the top of the page is that they're constantly being loaned out to friends. The web dev waxes lyrical about how great they are – the rest of us agree.
The Icarus Girl by Helen Oyeyemi
This is a phenomenally easy-to-enjoy read. Oyeyemi took time off school to finish it and the linguist is glad she (temporarily) said screw you to maths. A coming-of-age (sort of ghost) story set against the background of cultural upheaval; it was a pleasure to read.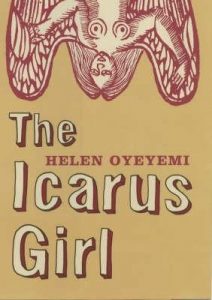 Why I'm No Longer Talking To White People About Race by Reni Eddo-Lodge and The Good Immigrant edited by Nikesh Shukla
We're grouping these two together for two reasons: (1) they're both accessible, important insights into current society, history, and the lives of people of colour in the UK; and (2) there's currently a petition to have them added to the GSCE reading list (which you can sign here). There's an American version of the latter – The Good Immigrant USA – edited by Nikesh Shukla and Chimene Suleyman.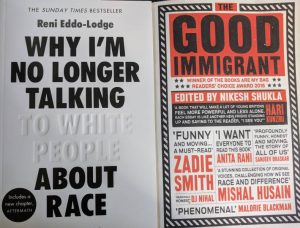 The Fat Black Woman's Poems by Grace Nichols
We'd be remiss not to include Grace Nichols's poetry: often hilarious, regularly moving, and always powerful. It was, and continues to be, an important joy to read.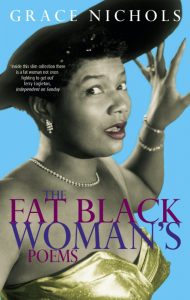 More Options
If anyone has further suggestions we're happy to share them, and if there's anything in particular we can do, we'd appreciate hearing it.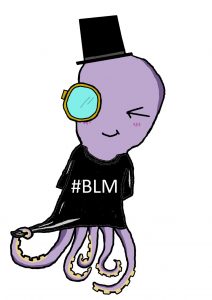 ---